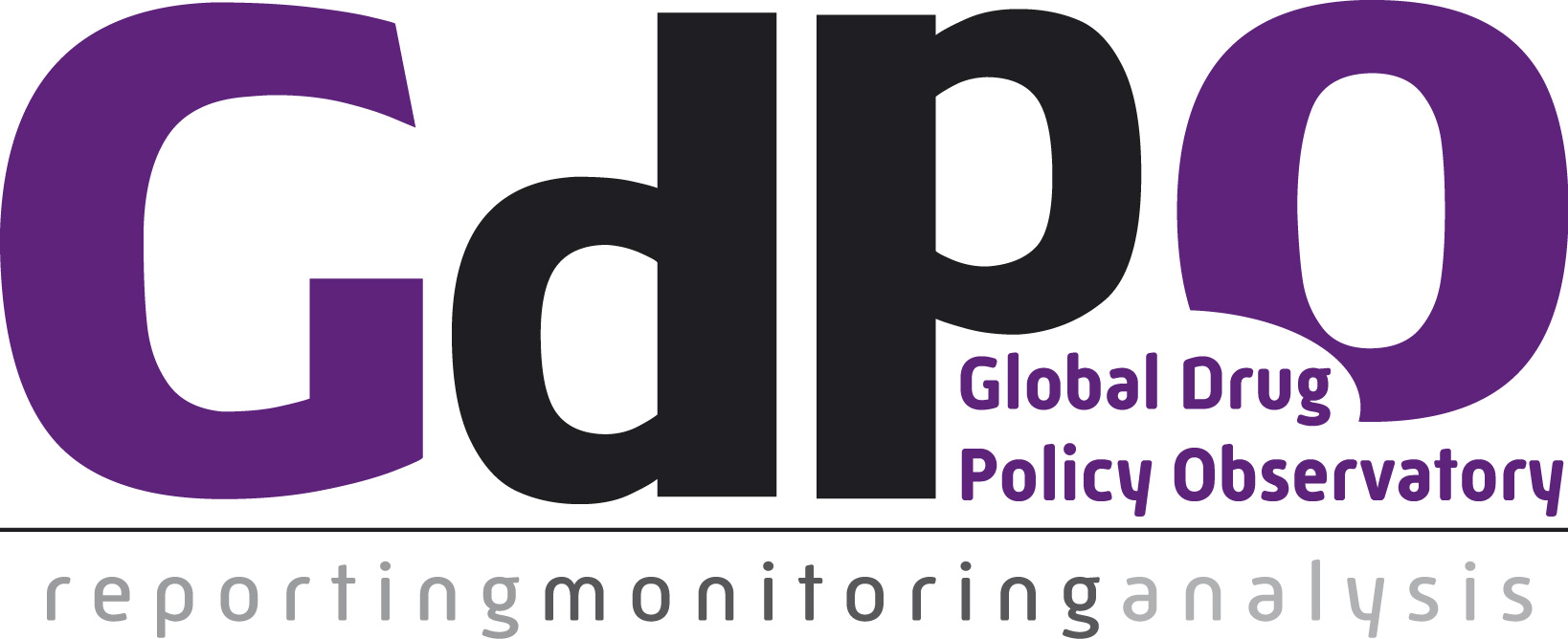 The Global Drug Policy Observatory (GDPO) at Swansea University, UK, is pleased to announce the launch of its new website. Engaging in a range of 'impact' oriented activities, the recently established Observatory operates with the goal of promoting evidence and human rights based drug policy through the comprehensive and rigorous reporting, monitoring and analysis of policy developments at national and international levels. The new website provides a platform from which to disseminate a range of research outputs to broad and diverse audiences with the aim of helping to improve the sophistication and horizons of the current policy debate among the media and elite opinion formers as well as within scholarly, law enforcement and policymaking communities.
The website includes project pages on the topics of drugs in West Africa and regulated markets for the recreational use of cannabis within the USA.  Containing GDPO publications, as well as related blogs, audio files (which are also embedded within reports and briefs) and interactive maps where appropriate, these pages move away from the traditional snapshot approach towards the analysis of specific issue areas. Rather they are designed to provide users with a range of accessible resources that, as a topic selected for GDPO reporting, monitoring and analysis, develops over time.  The core of the West Africa project page is the policy brief 'Telling the story of drugs in West Africa: The newest front in a losing war?.  A draft of this briefing was presented at a co-hosted GDPO – International Institute for Strategic Studies (IISS) event, 'The securitisation of drugs in West Africa', in London in October.    
Our detailed policy report on the cannabis policy in the US project page, 'Legally regulated cannabis markets in the US: Implications and possibilities', will soon be supplemented by a shorter policy brief, Voter demographics and campaign messaging: Lessons from Colorado, Washington and Oregon. Forthcoming project pages include the 'narco-diplomacy' of the Russian Federation and the privatisation of the drug war in Latin America.
The website will also be the repository for an additional publication stream, the GDPO Situation Analysis (SA) series.  Comprising documents of around 1,000 words, this aims to provide the diversity of stakeholders within the drug policy arena with concise, cutting edge analysis of key topics, enabling informed engagement with pertinent developments and debates.  Presented in a focused and standardized format, the GDPO-SA flag risks, opportunities and future trends in crucial issue areas, delivering readers actionable information and evidence based insight. Our first GDPO-SA focuses upon Afghanistan's Bumper Opium Harvest, with others on drugs and cyber-crime and the khat regulation debate in the UK to follow shortly.
As well as containing a directory of our technical advisors and partner organizations, who both play a crucial role in peer reviewing Observatory publications, the website provides information on forthcoming drug policy related academic conferences and events and details of the GDPO Post Graduate Network.   The Network aims to bring together post graduate students and early years researchers in order to share ideas, discuss articles and provide support to any PG students working on drug policy or related issues.  The group will have a virtual presence on our website as well as meeting face-to-face when possible.
Please take a few minutes to visit the website and see what we've been working on over the past few months.  Remember, you can also follow GDPO on Twitter @GDPO_Swan and 'like' us on facebook where we will let you know about any new reports, briefs, blogs, GDPO-SA's and related audio material.